Our philosophy
We have a job to do
We don't all come from Berlin, but we are true Berliners: we are interested in what is going on in the city and the new things people are doing. We are open, communicative and curious.
How do we, the AMPELMANN Team, see the Ampelmännchen? Just like our fans, friends and neighbours, residents of Berlin and visitors: we see them as true Berliners.
The Ampelmännchen are out and about, wide awake, interested in everything that is going on in their city. This is how AMPELMANN has achieved cult status. This is how the two Ampelmännchen, the green man striding energetically forward and the red man with his arms invitingly outspread, have become the unmistakable symbol of a versatile, creative Berlin.
"We are a brand that stands for Berlin", explains AMPELMANN's founder Heckhausen. "We make products, but more than just products. We are committed to our city."
Markus Heckhausen is just as deeply rooted in the city as the Ampelmännchen. AMPELMANN has something for everyone: weekend visitors or long-term students, shopaholics or culture vultures, businesswomen or tourists, full-time Berliners or visitors, dads, rolling stones, workaholics, hipsters, sportspeople, partygoers – whatever their age and outlook on life.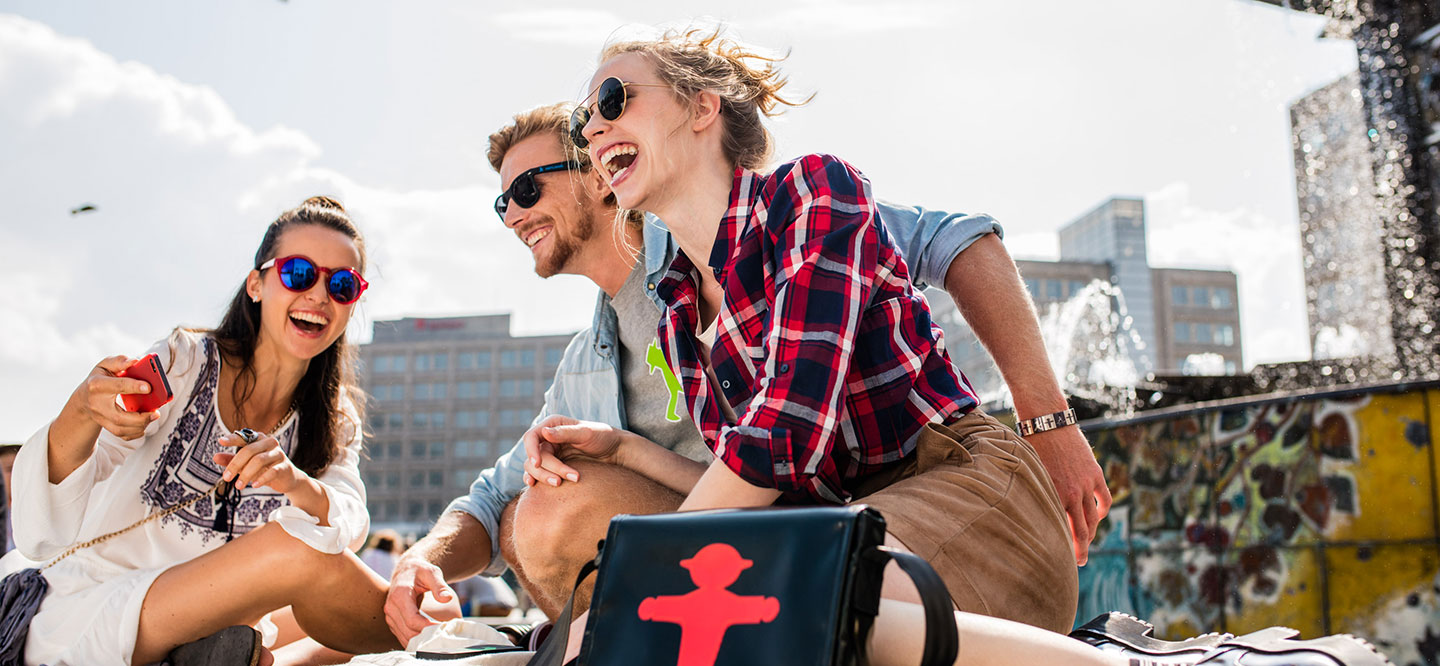 See and be seen: bona fide Berlin!
We are doing something. We are giving something back to Berlin and East Germany that they previously gave to us: a wonderful attitude towards life. For us, the Ampelmännchen are a living symbol of a reunified Germany and a creative Berlin. And we are happy to roll our sleeves up for that.
We put in all our energy and great commitment, our ingenuity and our love for what we do – we are friendly, open and direct. We will happily roll our sleeves up if that's what it takes. We treat each other and everyone we meet as equals. That is Berlin. That is how we see ourselves and how we see our city.
Ampelmännchen in a new light
As a design company, we specialise in products of high aesthetic value, that are manufactured with care and above all, are practical. AMPELMANN products are there to be used, and are not just for decoration. There is a history behind every one of our products that casts it in a new light.
When we are managing the business and selecting our fittings and equipment, we watch out for sustainability and natural materials; we buy green electricity and ecologically sustainable raw materials. Many of our sources are in the EU, and we know our suppliers. We manufacture in Germany, preferably in East Germany, using carefully selected manufacturers and manufacturing methods.
Cultural assets should be well produced
We laid the foundations for this corporate philosophy in 1996 with the first AMPELMANN product to be made in the reunified Germany: the lamp made of original traffic light glass, designed by Markus Heckhausen. Since then, thanks to good ideas and plenty of personal commitment, a whole world of AMPELMANN has been opened up beyond the traffic lights.
For us, these are cultural assets. The designers of our products, textiles and graphics work on new additions to the Berlin Ampelmännchen world with great affection, right down to the smallest detail. We do all of this within the company, and cooperate on projects with filmmakers, musicians, artists and other creative people, who soon become members of the family too. We don't outsource anything, and we really do make everything with our own hands, at our office in Mitte, right down to the smallest price label. AMPELMANN is "designed in Berlin" – you can't get more original than that.